We are the complete package when it comes to Modular Innovations with Design, Construction and Certification, Delivery and Install.
All Done under one Banner– Event Studios Australia
 Challenge Us.
Event Studios Australia Pty Ltd (ESA) was created in May 2003 by the Keeble family.
Our Founder – John Keeble saw a requirement in the event market for a solid modular structure offering more versatility to the clients as opposed to the Marquee set up which was prominent in all Major Events back in the early 2000s.
John took the punt and approached the Victorian Racing Club who believed in the vision placing a major order for 2 Story Steel Modular Buildings which created the Winning Post at Flemington.   This set off the initial direction of the business.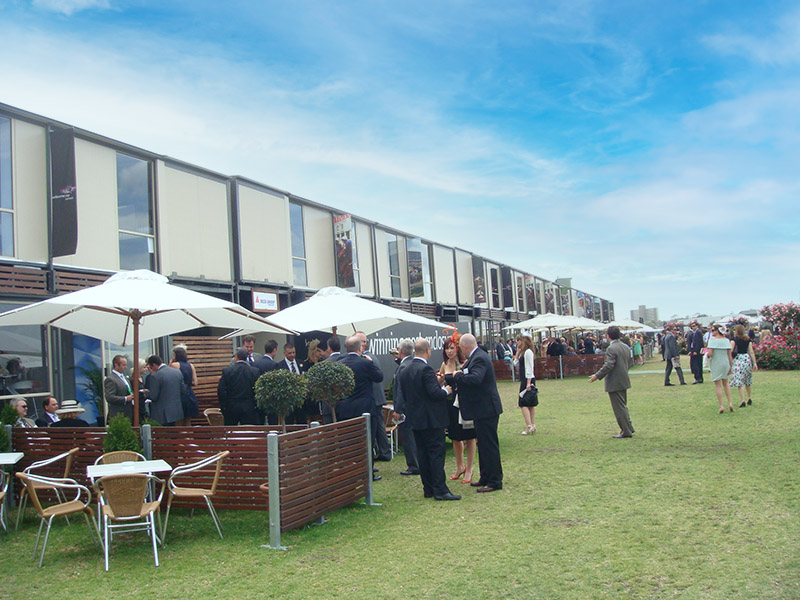 This pioneered a move away from Marquee set ups from Major Events.  Today key Event Spaces now like the Birdcage at Flemington and Pit Straight at Albert Park are full of similar structures all inspired by initial ESA Design.
Our Modular Units were further utilised at Major Events Like the RipCurl Pro and Australian Air Show
From Here on the 'ESA Studio'  converted to other industries like Disaster relief, Meeting Spaces and Activation Spaces.
From the Success of our Studios within the Event Industry grew, as did the scope of our work.  We began to build all sorts of Bespoke Structures for the Event Industry including and not limited to –
Top Deck Portable Bars For the likes of Corona, Heinekin and Little Creatures
Standard Bars for the likes of Veuve Cliquot, Stomping Ground and Archie Rose
Frozen Coke Container For Coke
Brand Activation For Jeep Showcasing their Cars on Our Structures at Portsea Polo
Slime Lab For Nickelodeon
Merchandise Center for the AFL at the MCG
Our Portable Bars and Kiosks became a Staple requirement for all events throughout major events across Australia.  Especially as we started to serving to major clients in Sydney, Brisbane and Adelaide.
Today we have a fleet of Large and Smaller Portable Bars/Kiosks that are leased out either for short term  events or Long term Rental for Bars, Restaurants and Function Centres.
In 2013 with an Increasingly crowded Event Supplier Market, we scaled down event offering to a boutique services focusing on a premium quality outcome rather than larger structures.  This allowed us to move into our Markets and expose other industries to our unique bespoke steel structure creations.
From this decision we managed to complete some outstanding projects across Australia including:
Stringbean Alley Container Market in Queen Vic Market

Staff and Visitor Centre at Myer Music Bowl
Top Deck Viewing Platform and Bar at Adelaide Oval
Merchandise Centre at Canberra Stadium
Australia's First Portable Eco Kitchen presently at Federation Square
Portable Grouting Structure for CPB Constructors – Westgate Tunnel Project
Event Studios Australia Today
As business reaches 20 years in Operation, we find ourselves entrenched in many Industries including Hospitality, Government, Civil, Mining and Residential.
Covid 19 and the destruction it created for the Event Industry re-enforced our need to pivot and strengthen our presence in other markets.
We have added several new layers to our business, spawning new products like our Home Office Pods, Actuating Structures for Remote Deployment and our Customised Steel Structures that continue to innovate for each different project.   We continue to be passionate about the Event Industry and improve and create portable structures that will serve this industry for many years to come.
Post Covid 19 ESA remains a key player in many industries with a drive to Innovate and create like we always have for our amazing Customers.